The guys over at Driphter have brought us some more photos of the Bold 9780! They are also shedding some light on who is going to carry the device.. We all know it is a GSM Device and we can all assume it will go to all of the major carriers. The Blackberry Bold 9780 running on 3G Bands.1, 4, and 8 
The 3G Bands 1, 4, and 8 primarily Operate with T-Mobile (USA) and WIND Mobile, Mobilicity, Videotron (Canada). Also, band 8 is used in Europe, Asia, Oceania on carriers such as Optus and Vodafone.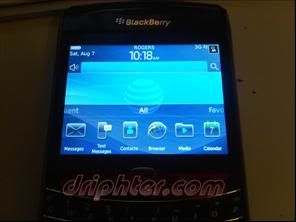 The above photo shows the Bold came preloaded with the AT&T background. Not just that though the device's about screen shows that it is running on different 3G bands than all the previous 9780′s that we've seen (Bands 1, 2, 5, 6)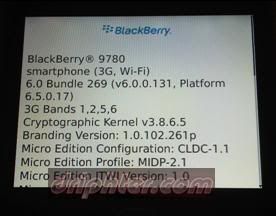 This is interesting info because the photo shows the 3G Bands consistent with those used by major North America carriers such as AT&T, Bell Mobility, Telus, and Rogers. Also band 6 is utilized in Japan. .
Drop us a line here on this post or head over to the NerdBerry forums to share your thoughts…