RIM's update to OS 7.1 introduced an invaluable feature called Mobile Hotspot,
What that does is it allows your BlackBerry to act as a Wireless router where you or people you know can actually connect to your BlackBerry and access internet using your BIS (BlackBerry Internet Service) plan. The speed they will get is dependent on your connection strength (if you are in a good area with good coverage). I initially thought that would be useless but to my surprise the connection speed is actually very fast and decent enough to allow you or others accomplish basic tasks such as browsing on their laptop computers, iPad, Playbook, etc.
It was a bit confusing to me at first as to how to enable and get this feature to work so here is a step-by-step guide to get you started.
1) You will need to have OS 7.1 installed on your BlackBerry, I have tried this guide on my Bold 9900 but the steps should be the same for any OS 7 device (9810, 9860, etc.)
Dowload OS 9900 – 7.1.0.74 , (if you are using another device than the 9900, then you must find OS 7.1 for your device and proceed with the guide) then install it on your BlackBerry by deleting the Vendor.xml file from its known location.
Little Tip: Recently, after you delete the Vendor.xml file and launch loader.exe to start the update process, the Vendor.xml file reappears preventing you to install the OS. So just keep an eye on the folder where you have deleted the vendor.xml file to delete it again once it has been re-created and delete it again, then re-launch Loader.exe and start the update process.

Please DO backup your device via the BlackBerry Desktop Software before attempting to update your device.
2) Once you have OS 7.1 installed and running on your BlackBerry smartphone, click on the top section of your home screen to pull down the connections tab, then ensure you turn on Mobile Network, WiFi, and Mobile Hotspot. You MUST have all 3 options enabled even if you are not actually intending to connect to a WiFi network at that point, but it must be on.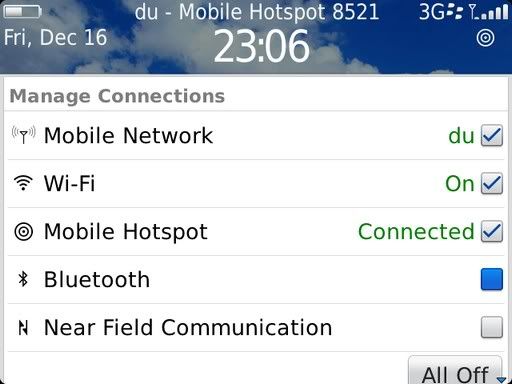 3) As soon as you turn on the 3rd option ( Mobile Hotspot ), you will see the below screen: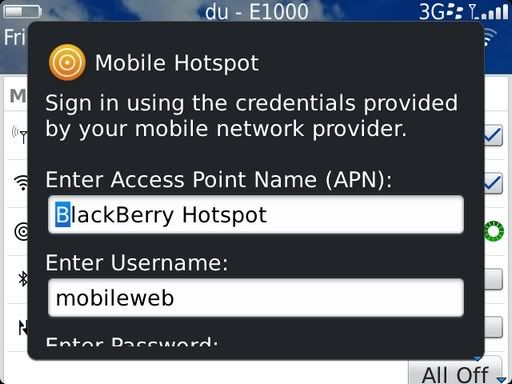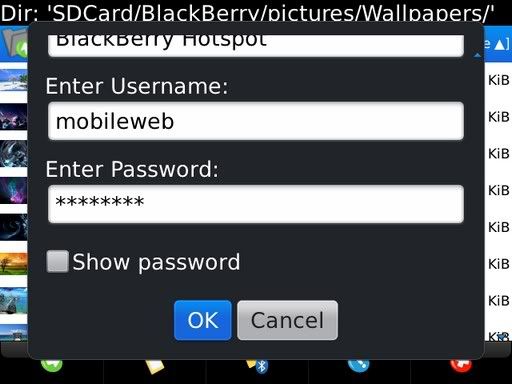 Enter Access Point Name (APN): here, you can enter whatever name you wish, it doesn't matter, I have set mine to: BlackBerry Hotspot
Enter Username: mobileweb , set this to mobileweb
Enter Password: password , set this to password
Select OK from the bottom of the above choices, you will then see an image as shown below confirming that the connection is being established:
4) Now go back to the Manage Connections tab by selecting the connection icon on the top of your homescreen, then go to Networks and Connections
5) Now go to Mobile Hotspot Connection
6) You will then see this screen: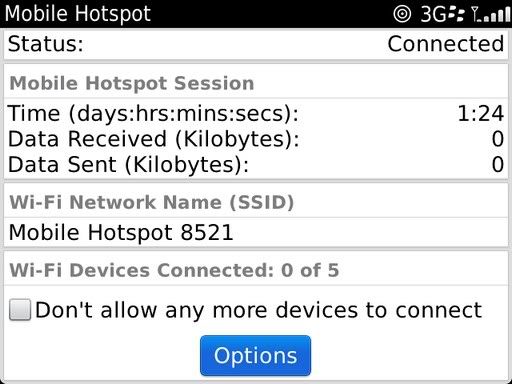 Select Options
7) In the next screen, you can setup extra parameters such as your Mobile Hotspot Network Name (the name the people will see for your connection when they are scanning for WiFi networks), the authentication method, and the network mode.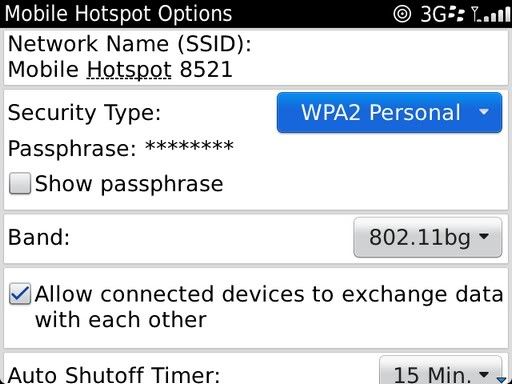 I recommend keeping the password security to WPA2 Personal, and the Network mode to 802.11bg
8) While you are still in the above screen, choose a password, something easy that you can remember but good enough to keep your connection secure as you wouldn't want random people around you to be using your BlackBerry's connection. I also recommend keeping the Shutdown Timer to 15 mins to minimize battery drainage, with the set to 15 mins (or even less if you want), when your BlackBerry device doesn't detect that there is anyone using the Mobile Hotspot, it will automatically shut itself down to conserve power.
9) Enjoy your WiFi browsing
Disclaimer: Please ensure that you do not use this WiFi connection to download large files on the laptop, tablet, etc, that is connected to your phone as that may incur additional carrier charges depending on your plan. I personally have a 10 GB limit on my BIS plan with my carrier so I am safe knowing that I will rarely even come close to that limit, but things might be different depending on each individuals' plan.
This guide works for most users but if for any reason you are not able to get Mobile Hotspot to work, then you may have to contact your carrier and see if they require you to enter a different username / password as shown in step 3 above.